Dead Ice Sweepstakes
The contest has finished. Winners will be notified by email.
Thank you all for for your participation as well as your patience and understanding while we tried out a new system for contests.
-Jonathon
Enter for a chance to win!
Dead Ice Paperback Giveaway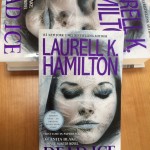 Have you had a chance to read Dead Ice, an Anita Blake Vampire Hunter novel? What about Wounded, the new extended epilogue in the back of the new paperback release? Here is your chance to win a SIGNED paperback copy of Dead Ice! On Thursday May 5, we will randomly select 10 lucky winners!