Fallen Heroes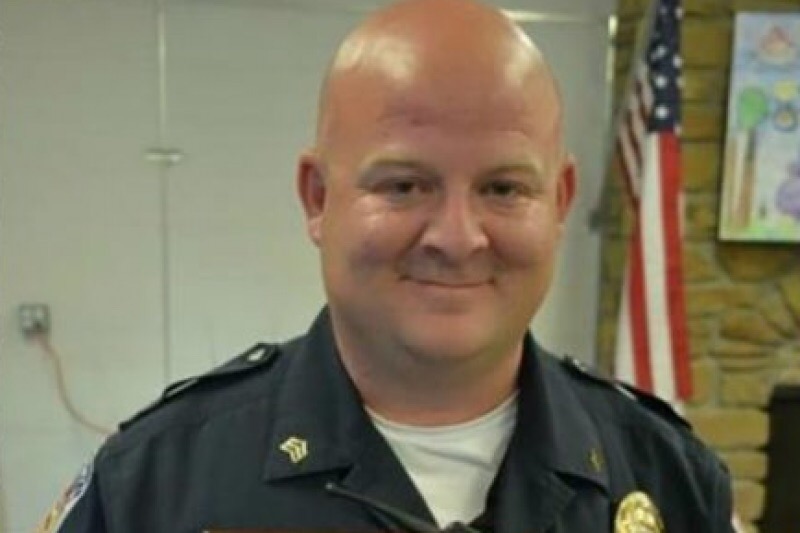 I got a text from my best friend the other day. We joke that our friendship is old enough to get its own drinks now. He's a non-practicing Marine, and a former police officer. His text was simple, "Had two friends in law enforcement die today." It came through when my phone was silenced for Kali sword practice, so I didn't see it until I was home, then I called him.
A lot of people wonder, what do you say when something like this happens? You say the usual, I'm sorry for your loss, is there anything I can do to help or make this day any less awful? Sometimes there will be specific things they need, or you can take errands off their plate, anything to help ease the moment, but usually the only thing you can do is listen. Let them talk, let them rail and rant, or be calm, very calm. Police and military people are often incredibly calm outwardly, because they're trained not to let their emotions get the better of them. Most men are conditioned from childhood to not show too much emotion, but that doesn't mean they aren't hurting, but don't poke at that; okay? This is mainly to the women in the lives of such men, do not poke at the wounds, let them talk, listen to what they have to say, but allow them to show you as much, or as little pain as they are comfortable with, the best thing you can do for them is to listen, just let them talk, if they will. If they want silence and solitude give it to them, but if they talk to you take it as the gift that it is, because men like this don't talk to just anyone. My BFF and I bonded over a lot of things, but one of the most important was that when something seemed wrong, or off, I asked, and I was ready for the answer. I was able to hear about his day at work as a police officer, whatever it was, and listen with no judgement and no horror and no extra emotion from me got added to his story. That's really one of the reasons most cops don't talk to the women in their lives, we have tendency to react too much, show too much emotion on our faces and they see it and are worried that they are burdening us, making us feel the pain and difficulty of their jobs. My BFF and I have been doing this long enough that I can give him more emotion, because he trusts me with it and with his own, and I never forget what a gift that trust is, which is why he and I are each other's three AM phone call. We have seen each other through divorce and loss, and remarriage and gain, and . . . So much. We are each other's person in a way that is rare for someone with his background and a civilian like me. That I am a civilian woman and have his trust and friendship is even more rare, but I did know him before he went into the Marines, and he knew me before I sold a single short story. We've been in each other's lives a long time, through a lot of changes. We have earned each other's trust.
All this to explain that I'm putting up a link to a Go-Fund-Me campaign in this blog. The Go-Fund-Me is for a man I never met, but my BFF did. Aaron Allan was a Lieutenant with the Southport Police Department, he was previously a school police officer for the Indiana School for the Deaf, and was one of the two friends that died. Lieutenant saw a car speed by and crash, rolling so that anyone would be worried for the safety of the people inside of it, but he was a police officer. It was his job, his duty, the kind of person he was to run for the crash and to check on the driver first, because you know there was a driver, you don't always know if there are passengers in a crash, so police are taught/trained to check on the driver first. Lieutenant went to help the driver, make sure he was still alive, and the driver shot him. Why? We don't know yet. The driver is still alive, so maybe he'll be able to tell us why. Its likely that he and the other person in the car were fleeing from some criminal activity, or something they thought they shouldn't be doing, and instead of seeing Lieutenant as someone that was there to help, they saw him as an officer, and as a threat and they killed him. My BFF and I talked about the fact that he would have done the same thing if he'd been the officer responding.
The other friend and officer that was killed was Deputy Chief James Waters, Indianapolis Metropolitan Police Department. He was off duty at the time, and had simply stopped to aid a motorist with a flat tire. He was doing something that a lot of us have done, just helping out someone that seems to need it. Sadly, a semi-truck struck him and he would later die of his injuries. Deputy Chief was from a larger department with greater resources which is why there is no Go-Fund-Me account for him. Southport will do all it can, but its a small town on the edge of a big one and it simply doesn't have the resources to help the Lieutenant's family the way the much larger Metro Department would be able to help the Deputy Chief's family. That's why the Go-Fund-Me exists for one fallen officer and not the other. My husband and I have personally contributed already, and I'm putting this up here for those of you who might want to help out. No pressure, but I wanted to explain that through my BFF I had a more personal connection to this campaign and that's why I'm putting the link up. If you feel like helping out, thank you. I understand that for most of you police officers are just someone you see as you drive by their cars, or they give tickets, or they come into your house on the worst possible days and nights, but at their best police officers are the people who run towards the car crashes, the explosions, the screams of pain. They run towards the bad things and try to help the rest of us survive them. I've always felt that should be honored and the more men and women in uniform that I am privileged to know, the more I believe that.